3 Ways to stick to a new habit!
Updated: Jun 3, 2021
If you are like me, somedays I wake up and I want to start a new habit or there is an area of my life that I would like to improve. Either the start of a new month, new quarter or start of the new year sometimes we want to create new routines and habits.
You know that feeling when a new moth starts or all of sudden you realize that it is June and your new years resolutions or intentions have fallen off your priority list... well my friend you are not alone.
It takes anywhere from 50-550 days to start a new habit. but the average is 66 days. But to have a new habit you have to START. Shocking, I know. So why not start today?
Here are 3 ways to start a new habit!


1. Use a habit tracker.
Set an intention for your new habit. You can focus on any part aspect of your life your health, relationships, faith, personal development or anything you want! but set a specific habit to focus on.
Here are some examples:
Drink more water!

Write in a journal

Complete a devotional each morning

Go for a walk

Read for 20 minutes

Exercise for 30 mins

Start a new eating habit

Anything you want!
Then track your progress for the month. Everyday cross off or color in the number when you complete the habit. Easy! AND cute when you use the free printable!
30 day Habit Tracker
HABIT TRACKER FREEBIE
.pdf
Download PDF • 74KB
2. Find an accountability partner or group.
There is power in numbers. If you know someone that has a similar goal then set a time to check in to see if you are staying on track. You could chat weekly, biweekly or monthly to check in or even daily by send a picture or a text when you have completed whatever action that you are working towards.
TIP: When selecting someone to be an accountability partner be sure that you select someone that you trust and that feels comfortable asking you how your progress is going. I know for me I need to have someone who give me some "tough love" but in a nice way!


3. Set a reminder in your phone.


Then of course there is always the option to put it in your phone as a reminder or a timer if it is something that needs to be done everyday.
ALARMS WORK!
No matter what your goal is creating new habits typically is part of that process. When we make small micro changes in our life they add to BIG results in the long run if we stay consistent.
My hope is that you find the printable helpful and motivating to build your dream life or business! You have what it takes to build or do anything you WANT! You have the tools and it is time to START!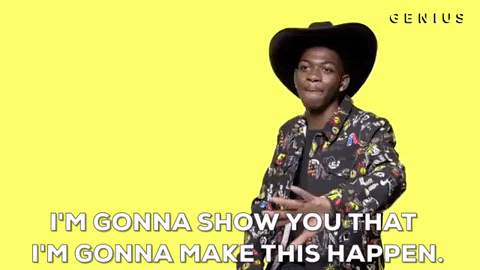 Cheers to you as you start your new habit! I would love to follow along! Tag me on IG for extra support with your new goal! I would love to support you! @beashleyanne